Birth-Name:

Vivian Mary Hartley

Date of Birth:

November 5, 1913, Darjeeling, India

Date of Death:

July 7, 1967, London. (tuberculosis)

Education:

RADA, London
Vivien was born on November 5, 1913, in Darjeeling, India. After the first World War, her and her family went back to their homeland, England. After she finished her schooling, she married Hubert Leigh Holman in 1932 and one year later, they had a daughter named Suzanne. Even though she loved her family very much, she couldn't quench her ambition to become an actress. She started acting for British motion pictures and stage productions.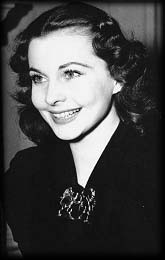 Her first role was in 1935's "The Village Squire." Shortly after, she met a young Laurence Olivier, whom she had felt an instant attraction to. He felt mutual and they fell in love while filming their first film together, 1937's "Fire Over England". In 1938, she flew to the United States to see him while he was filming "Wuthering Heights." While she was in the country, she had the good fortune of meeting up with the Selznick Brothers who were already filming a few scenes for "Gone with the Wind." The role of Scarlett O'Hara was not yet filled. Although most thought Paulette Goddard was a shoe-in for the part, Vivien won the coveted role as Scarlett. As many of you know, her role in addition to Clark Gable's role as Rhett Butler made her an instant success in the States and internationally shortly after. In 1940, she appeared in two more films: "Waterloo Bridge" and "21 Days" (another movie that featured both Olivier and Leigh, filmed three years before). That same year (1940), she obtained a divorce from Holman and married Olivier. Shortly after their honeymoon, the couple in 1941 appeared in "That Hamilton Woman", (one of my personal favorites).
Wedded bliss was shortly lived, however, because in the next few years, Vivien suffered from two miscarriages, tuberculosis, and was diagnosed as a manic depressive. "Caesar and Cleopatra" (1946) and "Anna Karenina" (1948) took much energy out of her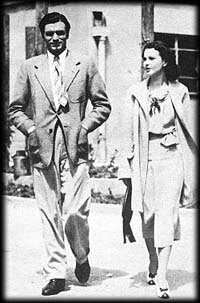 because many of her early misfortunes happened during the filming of these movies. By 1951, she picked herself up and played Blanche DuBois for her second Oscar winning performance opposite Marlon Brando in "A Streetcar Named Desire." After this performance, her appearances in the silver screen decreased to only a few movies in the 1950's and 60's. Her relationship with Olivier deteriated along with her health, as well. Although they remained married up until 1960, seven years before her death, the marriage seemed to have ended long before then. Although she started living with Jack Merivale and he'd gotten married again to Joan Plowright, he remained near and dear to her up until the end of her life, making them a magical Hollywood romance.
On Friday, July 7, she died from a severe bout of tuberculoses. Jack Merivale had found her lying face down on the floor. Her lungs were filled with fluid, in which she drowned. She was 53 years old. Olivier, who was currently in a hospital across town suffering from prostate cancer, discharged himself immediately to spend the last few minutes as he could with her alone. A more descriptive account of their last moments together can be found here. Her body was cremated and her ashes are held at the Golders Green Crematorium in London, UK. She only acted in about 20 films during her career, but she managed to win two Oscars for her efforts, permanently placing her as a living legend. Also, her ranking of #16 on the top 25 female screen legends testifies her staying power. Her beauty was unforgettable, but more importantly she has proved that she was not just another pretty face. Her talent lives on today as many still clamor to hear her say "as God as my witness, I'll never be hungry again."
Interesting Trivia:
Ranked #16 on the AFI top 50 screen legends (25 male, 25 female) list.

Lived with John Merivale from 1959 to her death in 1967.

Salary from starring in 1939's Gone with the Wind: $25,000 USD.

(October 1997) Ranked #48 in the UK Empire magazine's "The Top 100 Movie Stars of All
Time" list.

In England, she attended a convent school with Maureen O'Sullivan, who later became a movie actress in Hollywood as well.

When Vivien was young, her favorite actor was Leslie Howard, who not only played Ashley Wilkes in "Gone with the Wind," but also (coincidentally?) looked a lot like her first husband, Hubert Leigh Holman.

Daughter, with Holman, Suzanne (b.10/12/1933)