also known as:

Maria Magdalena Von Losch

Date of Birth:

December 27, 1902, Berlin, Germany

Date of Death:

May 6, 1992, Paris, France (natural causes)

Education:

Hochschüle fur Musik, Berlin;
Max Reinhardt's Deutsche Theaterschüle
Marlene grew up relying on herself because her father, an army officer, was serving in the Franco-Prussian War. She was 11 years old when he died, and her mother married Eduard von Losch. By this time, she found an enjoyment attending musical concerts and learned to play the violin and piano quite well. Also within the next few years, Marlene discovered the stage and felt she'd found her passion in life: acting.
In 1921, Marlene was accepted into an acting school run by Max Reinhardt. She was able to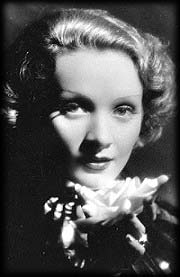 get her feet wet in acting by appearing in several stage productions, but nothing major. Therefore, she tried breaking into the film industry. Starting in 1922, she appeared in two films: Napoleon's Younger Brother and Tragedy of Love. It was while the filming of Tragedy that Marlene met Rudolf Sieber, whom she married in 1924. Shortly after marrying, Marlene gave birth to her only daughter, Maria. Although the marriage lasted up until his death in 1976, they soon split and remained seperated.
In 1930, Marlene was given her chance of fame in Hollywood after being spotted performing in Blue Angel. The first film she did in the United States was Morocco, with Gary Cooper. In 1931, she appeared on the silver screen in Dishonored. The film was a success largely for her performance as a streetwalker who became a spy. Shanghai Express was next in 1932, which was a big success. All throughout the early thirties, she was typecast as one kind of character, thus she couldn't expand. Other films followed, but her big break didn't come again until 1939, when she starred in Destry Rides Again. This film was important to Marlene, because she was given the chance to play a different type of character, expanding her ability to act.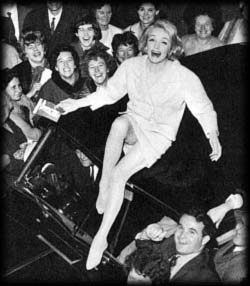 Throughout the early 1940s, she appeared in quite a few successful films such as Manpower, The Lady is Willing, and Pittsburgh. She also went on tour and performed for the troops during World War II in Europe and North Africa. During the later forties and into the fifties, her film appearances became less and less. In 1961, she obtained a substantial part in the film, Judgment at Nuremberg. As film appearances declined more and more, Marlene became more and more involved with stage performances. She sang and danced in various cities for quite a few years until 1974. Her last film was in 1975 when she made an appearance in Just a Gigalo. She spent the last twelve years of her life bed-ridden and out of public. Finally, on May 6, 1992, Marlene died due to liver and kidney failure in Paris, France. She was 90 years old. She was buried where she was born- in Berlin, next to her mother.
Interesting Trivia:
Her estate, consisting of about 300.000 pieces, was bid for 8 mio. german marks by the city of Berlin, Germany.