aka:
Norma Jean Baker
Birth-Name:
Norma Jean Mortenson
Born:
June 1, 1926, Los Angeles, CA
Died:
August 5, 1962, Los Angeles, CA
(drug overdose)
Education:
Actors Studio;
Morris Carnovsky Actor's Lab
Spouses:
Arthur Miller (1956-1960) (divorced);
Joe Dimaggio (1954-1954) (divorced);
James Dougherty (1942-1948) (divorced)
Norma Jean was born on June 1, 1926, in Los Angeles. Her father had deserted her mother long before she was born. Norma Jean had endured a childhood of poverty and misery, sexual abuse (she was almost raped when she was six years old) and years in foster homes and orphanages after her mother, suffering from a nervous breakdown, was institutionalized. Escape from this cycle came at the age of sixteen with an arranged marriage to a 21-year-old aircraft plant worker, James Dougherty. Wedded bliss soon turned sour as Dougherty had to leave his new bride alone for periods of time for his career.
While working at a factory in Burbank, Norma Jean had her picture taken by a visiting Army photographer. She then began modeling bathing suits and began posing for pinups and glamour photos. Howard Hughes, head of RKO at the time, arranged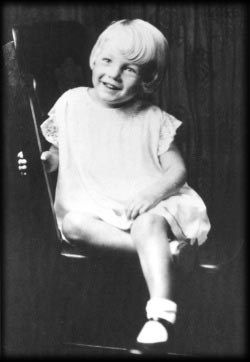 for her a screen test after seeing her photographs. Ben Lyon of 20th Century-Fox, however, beat Hughes to the punch, signing Norma Jean Baker to a contract and changing her name to Marilyn Monroe. By this time, her marriage to Dougherty was falling apart and she divorced him after six years of marriage in 1948.
Her first movie was a bit part for "The Shocking Miss Pilgrim", starring Betty Grable. After appearing in small parts in other films, Monroe achieved celebrity with starring roles in three 1953 features: Niagara, Gentlemen Prefer Blondes, and How To Marry a Millionaire. She also appeared nude in a 1953 Playboy magazine (its first centerfold) In January 1954, she married her second husband, baseball great Joe Dimaggio. However, she ended up divorcing him that same year in October. Although the marriage didn't last long, they remained close for years after. At the height of her fame, Monroe sensed the limited range of her screen persona and clearly desired to change it: "To put it bluntly, I seem to be a whole superstructure without a foundation." Forming Marilyn Monroe Productions in 1956, she produced Bus Stop and The Prince and The Showgirl (1957). She also married her third husband, playwright Arthur Miller, by this time.
All of her film roles were as objects of desire. Her basic character grew out of the dumb blonde archetype, but Monroe's dumb blonde could not be pinned down to any particular origin or social class. Also to the dumb blonde stereotype, Monroe added a sense of innocence, naturalism and overt sexuality. Her sexuality was never seen as a threat, but as something harmless and benevolent. Along with this kindly, innocent sexuality went a vulnerability; Monroe's characters were often humiliated at the expense of a voyeuristic pleasure, whether being lassoed like a cow in Bus Stop (1956) or exposing herself unknowingly in Some Like It Hot (1959).
But her personal problems, with failed marriage to Arthur Miller in 1960 and increasing reliance on drugs to combat depression and physical ailments, served to forestall any serious change in her career. She was still capable of memorable work, especially with top directors like Billy Wilder (Some Like It Hot) and John Huston (The Misfits), but her personal demons, or precarious involvement with people in high places, eventually overwhelmed her. In 1962, Marilyn was chosen for the film, "Something's Got To Give". Her absenteeism (due to her personal problems) caused delay after delay in production and she was fired in June. It looked as though her career was finished. Studios just didn't want to take a chance on her because it would cost them thousands of dollars in delays. She went in seclusion in her home in LA.
On August 5, 1962, her housekeeper found her nude and lying face down on her bed, the victim of an overdose of sedatives. She was only 36 years old. Monroe's was a tragedy in which her public, the media and the Hollywood power brokers all share blame. As Laurence Olivier once remarked, "Popular opinion and all that goes to promote it is a horribly unsteady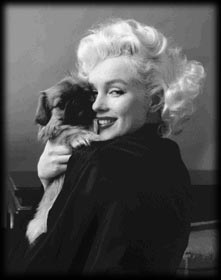 conveyance for life, and she was exploited beyond anyone's means." Marilyn made only 30 films in her lifetime, but her legendary status and mysticism will remain with film history forever.
Interesting Trivia
Was a direct descendant of U.S. President James Monroe, on her mother's side.

Was roommates with Shelley Winters when they were both starting out in Hollywood.

Invited by Graumann's Chinese Theatre on June 26, 1952 to place handprints and footprints in their cement forecourt with Jane Russell. Monroe initially suggested that her bust and Russell's bottom (their greatest assets) should be imprinted in cement for posterity, but Graumann's was not amused. She settled for hand- and footprints and dotted the "i" in her signature with a rhinestone.

She was Playboy "Sweetheart" of the Month December 1953.