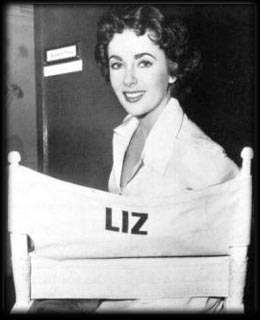 Birth-Name:
Elizabeth Rosemond Taylor
Born:
February 27, 1932, London, England
Spouses:
Larry Fortensky (1991-1996) (divorced);
John Warner (1976-1982) (divorced);
Richard Burton (1975-1976) (redivorced);
Richard Burton (1964-1974) (divorced);
Eddie Fisher (1959-1964) (divorced)
Michael Todd (1957-1958) (his death);
Michael Wilding (1952-1957) (divorced);
Conrad Hilton Jr. (1950-1951) (divorced)
She was a breathtaking beautiful movie star of the 1950s and 60s who has always been well known for her scandal-ridden personal life. During World War II, British born Liz fled with her family to the United States. She was ten years old when she appeared in her first film, "There's one Born Every Minute," (1942). Her next film in 1943, "Lassie Come Home," officially made her a child star actor and won her a long-term contract with MGM. Her big hit came the next year when she acted in the children's classic, "National Velvet." When speaking about her performance, one british reviewer claimed: "whenever she speaks or thinks about horses.. her strange azure eyes gleam and her whole frame trembles with the intensity of her passion."
She appeared in a few other films in her youth, but her next big performance came when she played a young bride in Vincente Minnelli's comedy "Father of the Bride," (1950). The following year, she starred in "A Place in the Sun," which established her as a fully adult actor. In 1956, Elizabeth gained much respect for her performance in "Giant" and within the next 10 years, she developed into one of the highest paid movie performers in the world. In 1963, she earned a big $1 million for her memorable performance in the major classic, "Cleopatra."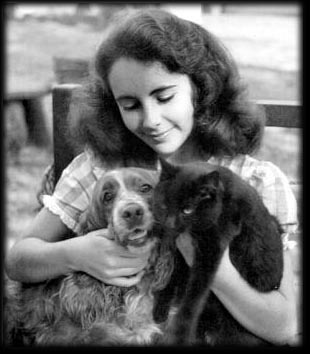 While she was in the glitz of movie making, her personal life brought on much publicity. She was termed as a 'serial bride,' marrying eight times in the span of her life. She rarely acted apologetic toward her actions, which gave her a critical reputation by the general population. She had gotten much sympathy when her third husband, Michael Todd, died, but soon after started an affair with a man who was married to another actress and former friend, Debbie Reynolds. Although she was forgiven by the public when she suffered from a near-death case of pneumonia and emergency tracheotomy, she hit the tabloids yet again when she had an affair with Richard Burton, who was still married at the time.
She won two Oscars, for her performance as a call girl in 1960's melodrama "Butterfield 8" and her performance in "Who's Afraid of Virginia Woolf?" (1966). Taylor was becoming more adept at playing neurotic, man-crazed women from some of her later films. Her serious film career died out during the 1970s. In 1981, Elizabeth debuted in Broadway as Regina in "The Little Foxes," winning her a nomination for the Tony Awards. Taylor formed the Elizabeth Theater Group, which reteamed her with her ex-husband, Richard Burton. During the 80's, she also appeared in occasional TV-movies and sitcoms, such as "The Simpsons," "Here's Lucy," "The Nanny," and "Murphy Brown.". She constantly remained in the public image and launched her own perfume line, which is still available to this day.
With the AIDS death of her friend and co-star Rock Hudson in 1985, Liz helped launch the American Foundation for AIDS Research (AmFAR). She campaigned numerous times on behalf of AIDS patients and struggled to get government funding for fighting the disease. As a result of her struggles with AmFAR, she set up her own Elizabeth Taylor Foundation for AIDS in 1993. That same year, she was presented with the respected American Film Institute Life Achievement Award and the Jean Hersholt Award at the Academy Awards. In 1994, she made a cameo appearance as Fred's mother-in-law in the recent film, "The Flintstones." Healthwise, she's had much hardship with her dependence on drug and alcohol, dealings with weight gain, and failing health. She still lives in California.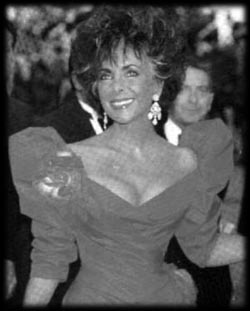 Interesting Trivia:
Taylor was bridesmaid for Jane Powell for her first marriage. Powell was a bridesmaid for Taylor at her first marriage.

(1997) Revealed the she has a benign brain tumor. Underwent successful surgery to remove the tumor. Discharged from hospital, but later rushed back in after a suffering a brain seizure.

Taylor has four children and nine grandchildren.

Liz has appeared solo on the cover of PEOPLE magazine 14 times, second only to Princess Diana (as of 1996)
Liz Taylor's perfumes have been Passions (1987), White Diamonds (1991) and Black Pearls (1995)

(1993) American Film Institute Life Achievement Award.
Write to Elizabeth:
PO Box 55995
Sherman Oaks, CA 91413-0995